Contact Info
Flagstaff, AZ 86003
Toll-Free:

800-525-0924

Phone:

928-526-0924
Basics
Activities:

Rafting
Description
►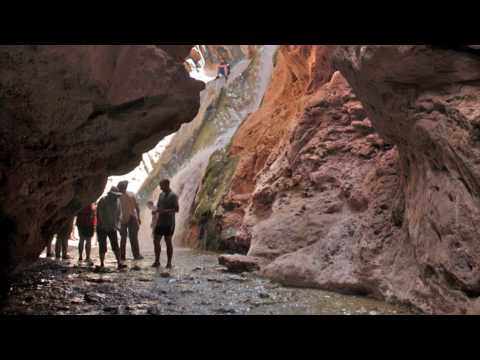 The Colorado River through Grand Canyon is one of the most challenging pieces of runable whitewater in the world.
It takes very special boats to withstand the river's relentless twisting and pounding and also carry passengers, crew, and the things that make the trip comfortable and enjoyable.
Our motor pontoons provide extra dimensions of comfort and space. There are cushioned seats for 20 passengers (rather than just perches on piles of equipment) and there's plenty of additional room to move around, or lie out and "sun" between rapids. Each motor pontoon has a trip leader, an assistant pilot, and a crewperson. A small outboard engine is used to steer. The boats have a low center of gravity, 64,000 pounds (!) of buoyancy, and a patentable articulating system that holds everything in place, yet lets the boat absorb the river's pummelling energy.
Canyoneers boats look different because they are different, and they're built of all-new, not surplus, materials. They're the right stuff for your Grand adventure.
Canyoneers has adopted the new motor technology and is now using motors that are substantially quieter, burn less fuel, and have far lower emissions than traditional outboard motors.
Cuisine
The big western outdoor meals that have been traditional with Canyoneers have gotten much easier, and even bigger and better through the years. Gone is the expedition-type menu. Our motor pontoon boats carry fresh and frozen meats, vegetables, desserts, (and a few surprises) that make delicious, multi-course meals our standard daily fare. Your river crew will do the cooking, with variety in every meal, and from one day to the next.
Special religious or nutritional diet? Let us know at least 30 days before your trip starting date. We'll do whatever we can to accommodate.
Details
Map + Directions
Customizable Directions