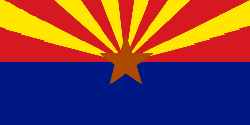 Arizona
"Grand Canyon State"
Motto

Ditat Deus (God enriches)

Capitol

Name Origin

Uncertain. Perhaps from the O'odham Indian word for "little spring"

Statehood Date

Feb. 14, 1912 (48th)
Cities in Arizona
NOTE: Not all cities are displayed. Please narrow your selection by using the search above.
Official Symbols
A state's official symbols represent the composition and culture of the land and people who live and have lived here. Below are the symbols of Arizona along with the year they became official.
| | |
| --- | --- |
| Flower | Flower Of Saguaro Cactus (1931) |
| Bird | Cactus Wren (1931) |
| Colors | Blue And Old Gold (1915) |
| Song | "Arizona" (1919) |
| Tree | Palo Verde (1954) |
| Neckwear | Bola Tie (1971) |
| Fossil | Petrified Wood (1988) |
| Gemstone | Turquoise (1974) |
| Mammal | Ringtail (1986) |
| Reptile | Arizona Ridgenose Rattlesnake (1986) |
| Fish | Arizona Trout (1986) |
| Amphibian | Arizona Tree Frog (1986) |
| Butterfly | Two-Tailed Swallowtail (2001) |
Demographics
Population Density

45.2 people per square mile
Geography and Weather
Land Area

113,635 sq mi. (294,315 sq km)

Lowest Elevation

0 ft (0 m)

Average Elevation

4100 ft (1249.68 m)

Highest Temperature Recorded

128°F (53°C) on June 29, 1994

Lowest Temperature Recorded

–40°F (–40°C) on January 7, 1971