Contact Info
Twin Knolls Road
PO Box 5547
Mount Carmel, UT 84755
Toll-Free:

800-293-5444

Local:

435-648-2700
Basics
Activities:

Rock Climbing,
Hiking / Walking,
ATV / Jeep,
X-Country Skiing,
Biking,
Offroad Touring,
ATV Tours,
Horseback Riding,
Hiking,
Fishing
Description
►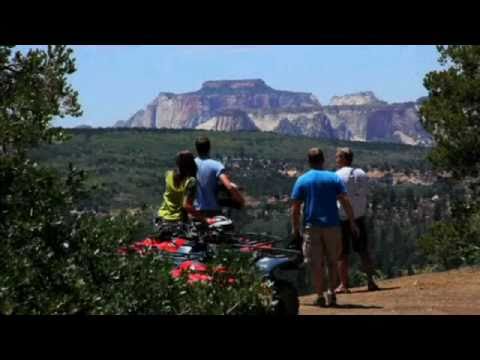 Find yourself exploring trails and gazing down into Zion National Park on our ATVs, horseback or 4 wheel tours. Zion Ponderosa extends for miles along the eastern boarder of the park. The beauty and breathtaking vistas at Zion Ponderosa are unmatched. Our certified guides will accompany you in rappelling, ATV tours, 4 wheel tours, paintball games and much more.
There is something for everyone at Zion Ponderosa. After a full day of activities our pool and hot tub and complete meal service including T-bone steaks, flame broiled rotisserie chicken, Rocky Mountain trout, baked potatoes, vegetables, tossed salad, fresh baked rolls, drinks and dessert will be waiting for you!
The Swimming Pool and Hot Tub are a highlight during the day, and bustle in the evening. There is nothing like a refreshing dip in our beautiful new pool...and after a day of serious recreation, soak those aching muscles in our hot tub.
Check out our Recreation Barn! There is always something happening at the recreation barn. We have both indoor and outdoor climbing walls to challenge your skills. Our certified guides will assist you in hooking up to our zip line that will give you a thrill that is unmatched.
Other activities and games include Basketball, Tennis, Sand Volleyball paintball, pool, foosball, and ping pong.
Zion Ponderosa's kids camp is perfect for the younger children in your group.
Details
Activity Type:
Rock Climbing
Hiking / Walking
ATV / Jeep
X-Country Skiing
Biking
Offroad Touring
ATV Tours
Horseback Riding
Hiking
Fishing
Rentals
Rentals Offered:
ATV's
X-Country Skis
Horses
Map + Directions
Customizable Directions