Transportation information for Fredonia is provided below. Travel information includes driving directions, maps, airport information and more.
Airports
The nearest airport with commercial air traffic is St. George, Utah about 70 miles to the west. The nearest major airport is 190 miles west in Las Vegas, Nevada.
Ground Transportation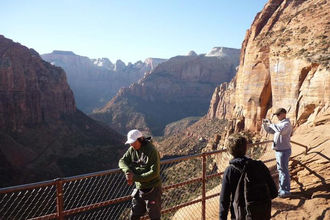 National Park Tours, Hiking, Sightseeing and Transportation Services
Transportation Services
435-590-5864
Map + Directions
Basic Directions
Fredonia is located in northern Arizona on US Hwy 89a. It is 70 miles east of St. George, Utah and just 7 miles south of Kanab, Utah. It is 75 miles north of the North Rim of the Grand Canyon.
Customizable Directions