Welcome to Bryce Canyon Country, also known as Garfield County, Utah. Here you'll find information on spectacular Utah National Park destinations such as Bryce Canyon National Park, Capitol Reef National Park, Lake Powell, Kodachrome Basin State Park, Anasazi Indian Village State Park and Petrified Forest State Park.
This is the place for great hiking, mountain biking, fishing, horseback riding, back-country exploring, ATV Trails, ATV Riding, scenic aerial tours, immaculate star gazing and much more. Bryce Canyon Country is the most scenically diverse place in the world. You may come for a few days but you'll want to stay much longer.
Stay and Eat
Lodging
Garfield County is the perfect place for your overnight stay. With so many options, from hotels, to campgrounds, to bed and breakfasts, you're sure to find an accommodation that's right for you.
Dining
Restaurants not only provide a good meal, but an amazing dining experience. Enjoy a variety of flavors including Italian, Mexican, American, and many more!
Things to Do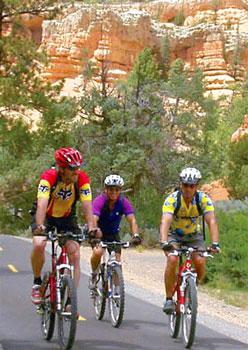 Boasting an incredible amount of scenery, Bryce Canyon Country, aka Garfield County, Utah is home to several National Parks and Monuments, including Bryce Canyon National Park and Capitol Reef National Park, as well as an assortment of State Parks and National Forests, such as Kodachrome Basin State Park.
The land, leading to Lake Powell to the east, offers a recreational opportunity for everyone in the family, including:
Offroad / ATV Exploration
Mountain Biking
Fishing
Hiking
Star Gazing
Cross Country Skiing
Horseback Riding

... and more.
Events
Click the button above to view our official event calendar to learn more about exciting upcoming events, festivals and celebrations.
Request Free Visitor Guide