Lake Powell is an amazing resource and a watersports enthusiasts dream. Before your visit to the lake take the time orient yourself a bit and select the tabs below to learn about Lake Powell's marinas, the lake itself, and other knowledge that will help you better understand your vacation to this amazing lake.
Overview
For watersport enthusiasts, Lake Powell is a dream. The water is crystalline, the fish are plentiful, and the shoreline is spectacularly beautiful. Houseboats, speedboats, fishing boats and personal watercraft are all available for rent. You can sail, waterski, swim or just soak up the rays.
The Marinas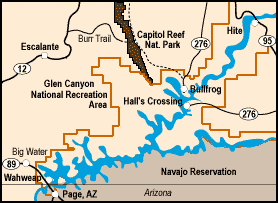 Lake Powell covers a large area in south central Utah. Its stretches 180 miles northeast from the Utah/Arizona border. Three highways provide access at four different points. At each access point is a marina.
Wahweap Marina is located off Hwy 89 at the southwestern end of the lake. It is the largest and most popular access point. Nearby is the town of Page, AZ with lots of lodging options and restaurants. Also at this end of the lake is the Glen Canyon Dam that created the lake.
At about the midpoint of the lake on the northern side is Bullfrog Marina at the end of Hwy 276. It is the most popular access point for those coming from northern Utah. Just accross the lake from Bullfrog is Halls Crossing Marina. It is reachable from the southern stretch of Hwy 276 or by ferry from Bullfrog.
Near the northeastern end of the lake is Hite Marina off Hwy 95. It is a bit quieter and smaller than other marinas.
There is also one floating marina -- Dangling Rope. It is located between Wahweap and Bullfrog and is accessible only by boat
Each marina has boat pump-out facilities, fuel docks, public restrooms, lodging and a small store with food, beverages, ice, firewood, tackle and fishing licenses. Each of the land-based marinas rents boats and have launch ramps and slips. Wahweap, Bullfrog and Halls Crossing also perform boat repairs.
Exploring the Lake
Houseboats are the most popular way to explore the lake. Not only do they provide a comfortable way to cruise and explore, but they also provide an easy way to spend the night on the lake. A variety of styles are available from 46 feet to 75 feet.
Speedboats will get you around faster and enable you to explore some of the narrower finger canyons. If you're not planning on venturing too far from the marinas, small skiffs for fishing are a cheap alternative to get out on the lake. Houseboaters often rent a wave runner, speed boat or fishing boat to tow behind to explore narrow finger canyons, pull skiers or fish.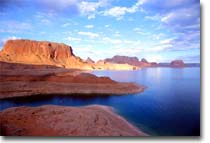 For information houseboats you can rent, visit Houseboat Rentals.
Sailing - Most of Lake Powell is not very good for sailing because of the distortion in winds caused by the high canyon walls, but the larger open expanses of Wahweap Bay, Padre Bay and Bullfrog Bay provide decent opportunities. Winds in these areas are generally pretty steady, and typically heavy in spring.
Water Skiing - Water skiing is permitted in most places on the lake. Skiing past sheer cliff walls is a thrill though you're safer sticking to open areas of the main channel. You can rent ski equipment from any of the boat rental outfitters (around $20 a day). Boats pulling skiers must have at least two occupants and a red flag to raise when the skier is down. You can also rent kneeboards, wakeboards and ski tubes.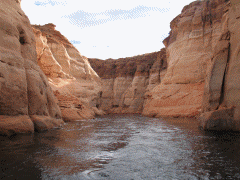 Swimming - The water temperature reaches the upper 60's by late spring and mid-70's in summer. Once you have established that no underwater obstacles pose a danger, diving from rocks and cliffs along the shore is fun. (To be safe, go feet first to start.) There is also a public swimming beach just north of Wahweap Marina and near Bullfrog Marina.
Cruises - For those looking to get on the lake for just a short time, scenic boat tours are available out of Wahweap, Bullfrog and Hall's Crossing marinas. These typically cruise the lake for a few hours to give passengers a taste of the scenery. Some travel up to Rainbow Bridge National Monument, the largest freestanding natural bridge in the world. It is located about halfway between Bullfrog and Wahweap marinas.
Other Things to Know
A common mistake boaters make is to misjudge the size of Lake Powell. It is 95 miles from Wahweap Marina to Bullfrog Marina. It will take a typical houseboat 9-10 hours to cover this distance directly, lots longer if any exploring of canyons is done. Plan accordingly.
You should also be aware that storms with high winds can come up very quickly (usually late afternoon) and produce high waves and dangerous gusts. If the skies threaten, think about moving towards a lee (wind protected) shore. Also, be wary of the possibility of flashfloods in the canyons.