Monument Valley offers amazing views of the natural wonders in Arizona however the area does have a few details that should be known before making the trip. Take the time to read through the information below to ensure a pleasant trip to Monument Valley.
Orientation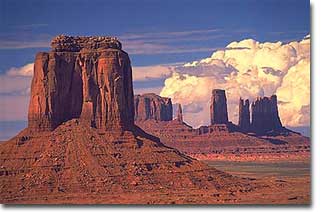 A very bumpy 14 mile loop provides good views of Monument Valley. The road winds about in among the Mittens. You will get the most out of your experience by going early morning or late afternoon when the light is best and by taking the time to just gaze in silence. Plan to spend a few hours driving, observing and taking pictures. (The route is not recommended for low clearance vehicles or RV's longer than 24 feet and is not drivable when wet.)
Private parties are not allowed to drive many roads in the area or to hike among the monuments. These areas are open to persons on guided tours only.
Numerous tour operators offer jeep tours through the valley starting at $15 for a 1-1/2 hour trip. Tour operators explain what you are seeing and are permitted to take back roads not open to the general public. You will find operators listed within Sightseeing Tours.