Think about the West - emotions stir at the sound of the word - far-reaching deserts, sprawling ranches, Indian strongholds and Army outposts. The West - America's frontier.
You should experience this glorious land. Come visit Sierra Vista for it is here where you can lose yourself in the splendor of the magnificent Huachuca canyons; where you can watch Nature's most wondrous creations, the tiny hummingbirds as they sip nectar from flowers; and where you can visit a historic military post with its roots deeply embedded into the decades of Indian wars.
It is here where you will find an attachment to the Old West with Fort Huachuca's historic museum detailing the contribution of the Buffalo Soldiers and the era of the Apache Wars; where western songs and verse are performed at the Arizona Folklore Preserve by Arizona's State Balladeer; where events are devoted to the preservation of the cowboy way of life and the heritage of the West; and where sunset trail rides lead into the mountains.
It is here also where evidence of prehistoric man has been preserved at the archaeological sites; where petroglyphs and pictographs depict the life of earlier man; where the Spanish explorer Coronado first entered the US; and where ghost town ruins reflect the futile hope of settlers to tame the arid land.
Today, Sierra Vista is a small city with big city amenities and a small town attitude. You will find affordable and charming lodging in one of our 1,200 hotel, motel and bed and breakfast rooms and a variety of ethnic and cultural choices for dining. A local 18-hole golf course lies in the shadows of the majestic mountains; the indoor Aquatic Center provides hours of fun for the family in the wave pool and tube slides. Our night skies are an astral delight with bright stars seen from horizon to horizon, and for a closer look, our observatories will accommodate you.
There's more! Come during our lofty hot air balloon festival, during cars or art in the park, or perhaps during the toe-tapping Cochise Cowboy Poetry and Music Gathering. Enjoy a symphony or a ballet. Come alone or bring the family - you'll love Sierra Vista.
Outdoor Activities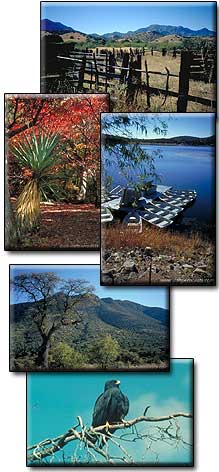 In abundance! The southeastern corner of Arizona, specifically the Sierra Vista area, is one of the foremost locations in Arizona for those interested in natural scenic beauty and viewing wildlife and bird life. The city is ringed with the mountain ranges of the Coronado National Forest. Hiking, biking, hang gliding, and caving are just some of the active sports available to the visitor. Other activities are observatory stargazing, hot air ballooning and wave surfing.
Southeastern Arizona is an eco-crossroad. Habitats and species from the Sierra Madre of Mexico, the Rocky Mountains, and the Sonoran and Chiricahuan deserts can all be found in this area. The "sky islands," referring to the abrupt rise of mountains from flat lands - shelter uncommon and diverse species of wildlife, plant life and bird life. The bird watching and wildlife viewing areas are world-renowned. Hundreds of species of birds fly to or through the Sierra Vista area during their seasonal migration. Unique wildlife, such as the coatimundi and javelina, make the grasslands and mountains their home.
Some of the premier wildlife and bird life locations and distances from Sierra Vista are The Nature Conservancy's Ramsey Canyon Preserve (7 miles), San Pedro Riparian National Conservation Area (6 miles), Miller Canyon (13 miles) and the Environmental Operations Park (4 miles). Some of the other natural attractions are Kartchner Caverns State Park (19 miles), Coronado National Memorial (15 miles), Chiricahua National Monument (90 miles), and the Murray Springs Clovis Site (5 miles).

In addition to Sierra Vista's rich cultural history, the area is also well known for hiking, biking, and birding.

Garden Canyon on Fort Huachuca:
In addition to containing some of the most diverse plant and animal life in the Huachuca Mountains, Garden Canyon is the site of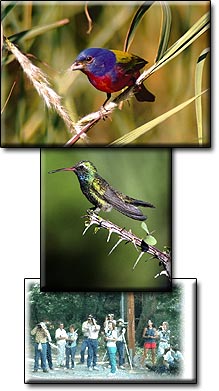 ongoing archeological studies at a prehistoric village near the mouth of the canyon. At higher elevations there is rock art which includes black and red rock paintings possibly dating to 1200 AD as well as eye catching white eagle paintings believed to have been done by Apache artists in the 18th century. No Fee.
The Nature Conservancy - Ramsey Canyon Preserve:
Famous among birders and other naturalists for over a century, this 380-acre property in the middle elevations of the canyon provides excellent birding opportunities from April through September. Hummingbirds (including Magnificent, Blue-throated and White-eared) abound. Sulphur-bellied Flycatcher, Dusky-capped Flycatcher and Painted Redstart are common in Summer, while Arizona Woodpecker and Bridled Titmouse are here year-round. Coues's White-tailed Deer and White-nosed Coati are common. No RV's over 18 feet or trailers of any size permitted. To reach Ramsey Canyon, take Hwy 92 south for seven miles from Sierra Vista to the 327 mile marker, turn right on Ramsey Canyon Road and follow it to its end. The road is paved to within a few yards of the Preserve entrance. Open daily, Mar-Oct: 8 am to 5 pm. Nov-Feb: 9 am to 4 pm. Closed Thanksgiving, Christmas Day and New Year's Day. Admission $5/person or $3/person for Conservancy members and Cochise County residents.

San Pedro Riparian National Conservation Area:

The San Pedro Riparian National Conservation Area, 40 miles of lush riparian vegetation, features an abundance of plant and animal life. The SPRNCA runs along the San Pedro River, from the Mexican border north to nearly Saint David and has ten access points. In addition to wildlife the NCA contains the sites of several mining towns, such as Charleston, Millville, Fairbank and Contention City. Evidence of prehistoric cultures can be found at the Murray Springs Clovis Site and the ruins of a Spanish presidio represent the colonial period. The Nature Conservancy has listed the San Pedro as one of the 10 "Last Great Places" in the U.S. The area is generally closed to private vehicular traffic, except by special permit. Find visitor information at the San Pedro House on Hwy 90, 6 miles east of Sierra Vista.
Parker Canyon Lake - This National Forest Recreation Site is a 133-acre fishing lake on the west side of the Huachuca Mountains. A small marina and 64-unit campground are located adjacent to the lake.
(520) 378-0311
Patagonia Lake State Park - This lake, created by the damming of Sonoita Creek is filled with bass, crappie, bluegill, and catfish. In 1998 a 12-year-old lad broke state and world records when he caught a two-pound, two-ounce Green Sunfish Hybrid in the lake. The park also offers camping, hiking and picnicking.
(520) 287-6965
(520) 281-2296
Spectator Sports:
Almost any time of year one can equine events such as rodeos and horse racing. Visit the website for more information.
Fort Huachuca has hosted the All-Army Boxing Championships for the past 15 years. This two-day event in January of each year is open to the public. Winners of the Championships comprise the All-Army men's and women's teams to compete against all other Armed Forces branches in the Armed Forces competitions and the U.S. Nationals.
During the latter part of October the Harvest Time (Soccer) Shootout brings school teams from all over Arizona to compete in this exciting and competitive sport. School age category requirements are for ages under 10, 12, 14 and 16. Placement trophies are awarded.
Current Events
There is an abundance of activities available in Sierra Vista for participants of all ages and ability levels, from hikes and guided walks, nature classes and talks, to concerts and ballets, and don't forget Arizona's Official State Balladeer performs at the Arizona Folklore Preserve! For other events see our website.
Cities and Towns
Sierra Vista. Located 70 miles southeast of Tucson, this thriving community of nearly 40,000 is the regional center of southeastern Arizona and the home of historic Fort Huachuca. Surrounded by the breathtaking natural beauty of majestic mountain ranges and the San Pedro River, Sierra Vista boasts a temperate year-round climate, abundant sunshine, and clean, fresh air. Daily flights to Sierra Vista are available, airport code FHU.
Request Free Visitor Guide