Located close to the US / Mexico border, Tucson, Arizona is a beautiful Southwestern destination. Mile after mile of pristine desert, cactus like nowhere else on Earth, spectacular mountains in every direction. Play on the legendary golf courses, take in the breathtaking blooming flowers of wildflower season or steep yourself in the unique culture and history of ancient Native American peoples, Spanish explorers and Anglo frontiersmen.
Go birding, stargazing, exploring or just kick back by the pool. Tucson is one of the most temperate cities in the US, with average temperatures ranging from highs of 83 and lows of 54, it's all right there anytime of year.
Activities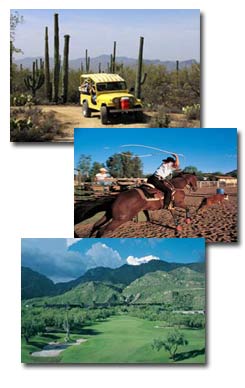 Camping. Tucson is a premiere location for desert camping, offering a host of different areas ripe for exploration. Roll out your sleeping bag under the stars in the cactus-filled desert or pile your gear into a 4 x 4 and go bouncing along one of the many jeep trails. Alternatively take advantage of one of the guided hikes in Saguaro National Park and the Grand Canyon areas.
Throughout all twelve months of the year in Southern Arizona, one can usually find ideal conditions for camping. Located in one of the most temperate areas of the entire United States, you're set to enjoy clear skies and breathtaking vistas in the 60+ degree range.
Skiing. Few people think of snow and skiing when they think of Tucson. Cactus, desert, and diamondbacks more readily come to mind. The Santa Catalina Mountains, however, is home to the southernmost ski area in the United States, which is perched near the 9,157-foot summit of Mt. Lemmon.
Ski runs are usually open from mid-December to early April, depending on winter weather and snowfall. Located just an hour's drive from the sun drenched resorts of Tucson, area visitors can go golfing, swimming and downhill skiing in the same day.
Golfing. The mild climate and outstanding courses make Tucson a favorite golf destination. Take your best shot on a challenging desert golf course, or enjoy a more traditional links-style layout. Play the same courses the PGA pro's do, and experience designs by Robert Trent Jones Jr., Tom Fazio, Tom Weiskopf and Jack Nicklaus. Check out one of Tucson's exciting golf tournaments, such as the PGA Tour's Chrysler Classic of Tucson.
Hiking and Horseback Riding. Offering a plethora of multi-use trails relatively close to town, Tucson is an outdoor enthusiast's paradise. Tucson is located in a valley at the base of 4 different mountain ranges. Just northeast of Tucson, the Santa Catalina Mountains rise to over 9,000 feet. You will see an exceptional display of giant saguaro, prickly pear and barrel cacti, mountain goats and any number of other plants and animals.
Fishing. There are a handful of lakes near Tucson, from the 250 acre Patagonia Lake to the lesser known but strikingly beautiful Pena Blanca Lake. The lakes are habitat for bass, crappie, bluegill, sunfish, catfish, and sometimes even rainbow trout.

Cities and Towns
Tucson. Tucson boasts the best of both worlds...the progress and innovation of a metropolitan community and the friendly, caring atmosphere of a small town. Tucson's rich cultural heritage centers around a unique blend of Native American, Spanish, Mexican and Anglo-American influences. Blessed with the natural beauty of the Sonoran Desert and an unsurpassed climate of 360 sunny days a year, Tucsonans embrace a rare lifestyle and are committed to preserving that quality of life.
Request Free Visitor Guide